September 18, 2020, 4 p.m., Cauvery Hall, Gangtok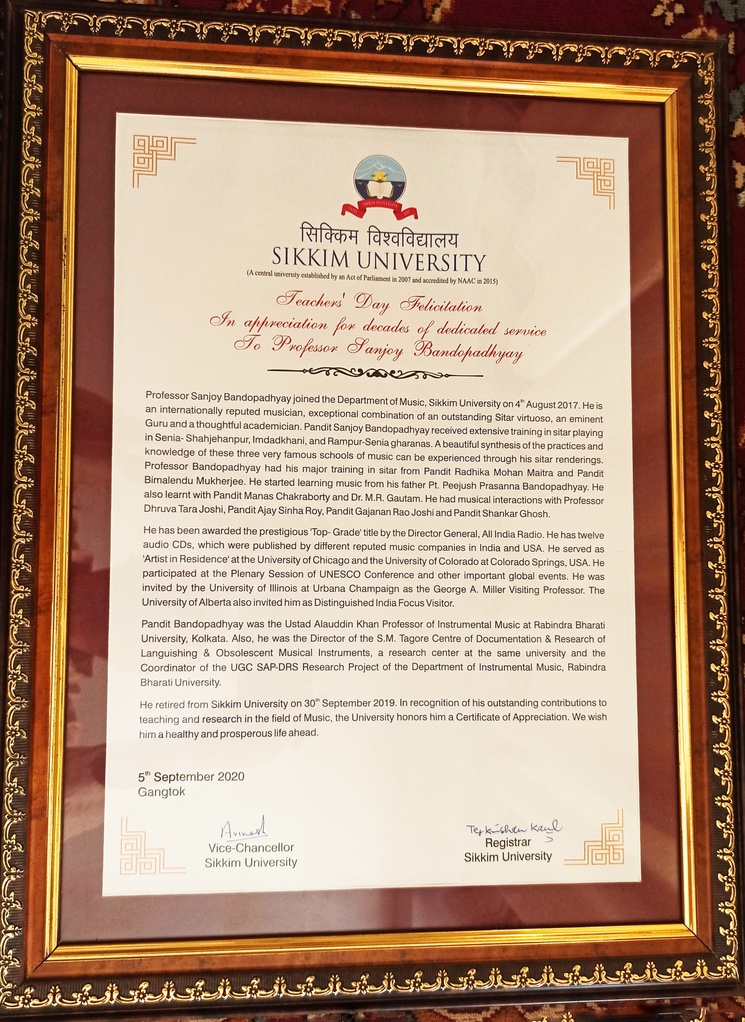 Sikkim University — a grand online event — the Teachers' Day 2020.
Let me take you a little back. It was the morning of 02 September, Sikkim University decided to felicitate four retired professors for their contributions in the advancement of the university. I was one of the chosen names.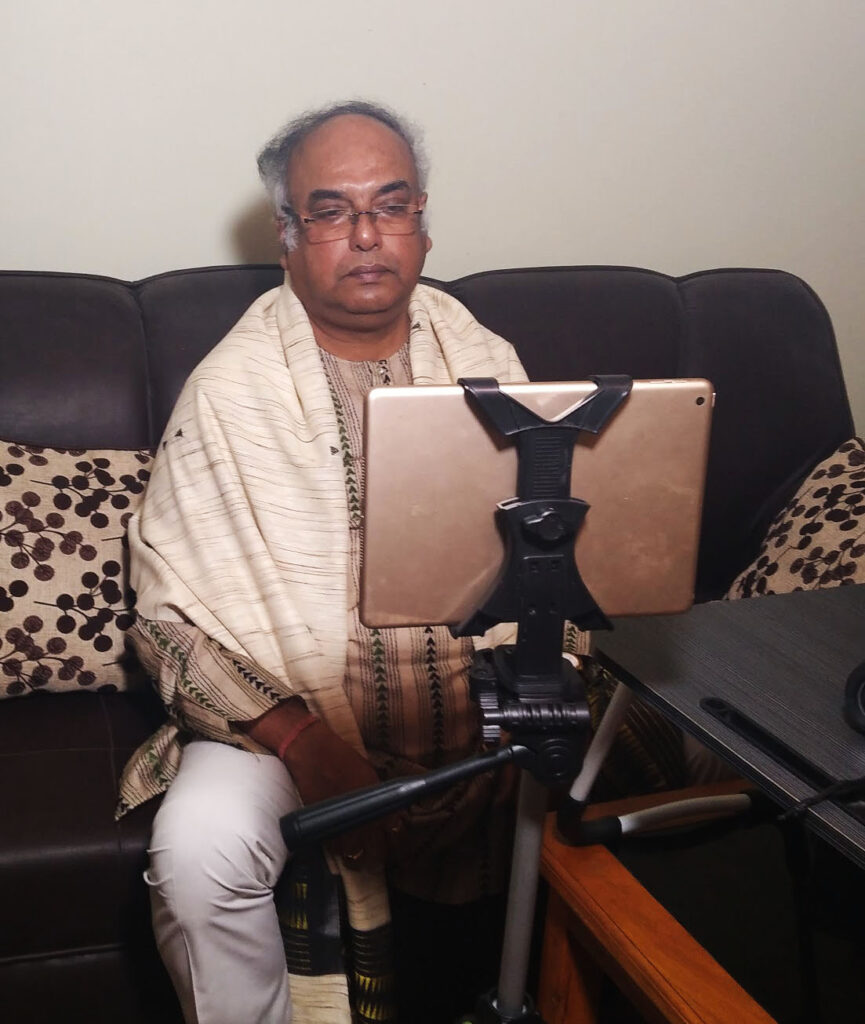 I received the first happy-shock with an email-bang of our dear JPT, the revered professor of Microbiology, Professor Jyoti Prakash Tamang. He wrote me the invitation for the felicitation and announced that the university decided to formally recognize its mentors' contributions to the advancements of the university. The online felicitation ceremony took place in the virtual presence of around 80 erudite scholars and professors of different fields and the top administrators of the Sikkim University.
This little note is not to tell you what happened on the 5th of September; instead, this little scribbling describes what happened on the 18 September. [If you want to browse through my Felicitation Speech, please click here.]
It was 3.30 on the 18 September afternoon. I called Dr. Mohan, "Are you coming to the party?" Mohan replied, "Yes, Sir. Where are you?" I said, "I am at home. I am about to leave." Mohan said, "Wait for two minutes. I am coming." Dr. Kotra R. Rama Mohan, the renowned anthropologist, is my neighbor. Mohan is the Head of Anthropology at the Sikkim University and also the Dean of the School of Human Sciences. Cauvery Hall was not far, so we decided to take a walk.
I felt so glad to see my dear colleagues after so many months, that too, not on my computer, phone, or iPad screen. I thought COVID-19 restrictions are an opportunity actually to realize the beauty of organic presence. This possibly taught us that it is a good idea to feel the present and enjoy its goodness. We feel the past was better; Carona confinement has made us distressed, and we are sad. Dhriti, Dr. Dhriti Roy, our highly efficient and learned colleague, a distinguished scholar of Chinese language, told a few times how low she was.
On a different note, I was trying to discover some goodness out of this dark Carona-time. For me, I am kind of enjoying Carona-time induced virtual life to be able to learn a lot and learn differently. I understand the whole country is learning ways to remain virtually connected, how we can efficiently work, complete our job, or even stay connected with family and friends, and avoid depressions.
I forgot to tell you that JPT's highly selective invitation was for a High Tea from the Hon'ble Vice-Chancellor Professor Avinash Khare. The university could not invite many to maintain physical distancing. There were nineteen distinguished people present in this meeting.
Photo by: Dr. K.R. Rama Mohan, Dr. Dhriti Roy and Mr. Satyam Rana
All present in the program-space were wearing face masks, some black, some blue, and some were designed. The Hon'ble Vice Chancellor Prof. Avinash Khare, Professor Jyoti Prakash Tamang and Mr. Tej Krishna Kaul, Registrar of the university greeted Prof. Imtiaz Ahmed and I with the traditional khAdA.
JPT started the event with his opening words. Then the Hon'ble Vice Prof. Avinash Khare expressed his thoughts and elaborated on the contributions of the felicitated professors. He said that mentors do not retire. Then Professor Imtiaz Ahmed, Department of Law, and I from the Department of Music, gave our very brief addresses describing what we tried to do. I focussed on the growth and achievements of the students, and the interest of the renowned scientific bodies to collaborate with my colleagues in the Department of Music.
After the speeches Hon'ble Vice Chancellor of the Sikkim University Professor Avinash Khare handed over the felicitation plaque to me.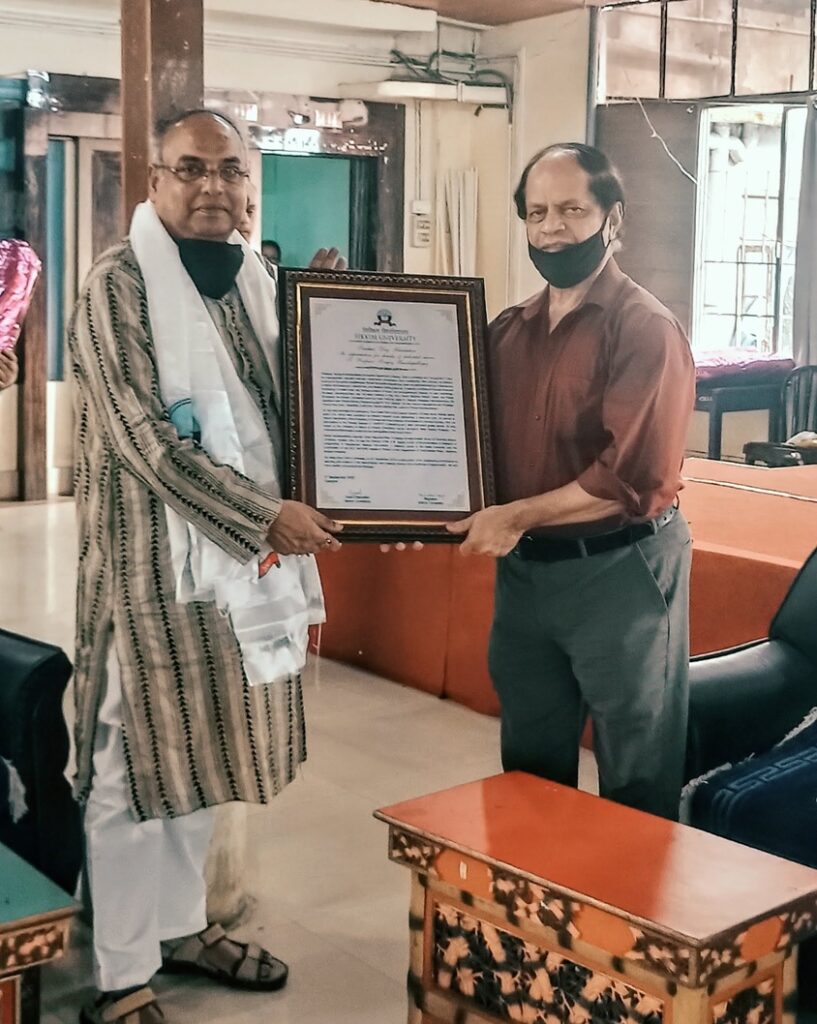 After the High-Tea, we had a group photo session. After that, the more informal and memorable part began. I was so moved the way our colleagues sang songs. Professor Khare is a passionate singer who loves to sing; Professor Tamang used to be a name in the Nepali music community who cut a CD in his young days. Both of these singers had sore-throat and could not sing. But, the gift finally came from Dr. Dhriti Roy and Professor Abhijit Dutta. I told you about Dhriti earlier. She sang a Chinese popular song and later on request a Nazrulgeeti, a song composed by the great Bengali poet Kazi Nazrul Islam. Dr. Roy's renderings were very smart and soulful. Before she sang the Chinese song, she explained the meanings in English. All presents loved her singing.
Later, all requested Professor Abhijit Dutta. Abhijit agreed. Professor Dutta is a distinguished scholar in Business and Commerce, a Professor in Commerce, and the Dean of the School of Professional Studies. He sang ghazals, one was Pankaj Uddhas' popular 'dIwaron se milkar ronA- -'. Abhijit rendered his music with closed eyes and drowned in emotion. The audience could feel his oneness with the music and applauded.
I felt the natural flow of affection and emotions from my colleagues, which elevated the whole event to a different state. The entire experience came out to me as a lifetime gift and will indeed remain as my loving and cherished memory.