Pandit Sanjoy Bandopadhyay talks about some of his brilliant students
It is heartening to observe how the disciples of Pandit Sanjoy Bandopadhyay are carrying forward the musical legacy. Sitar is Pandit Bandopadhy's first passion, but he equally loves to teach. He enjoys observing the gradual growth of his disciples, these budding musicians slowly and steadily taking shape of concert-winning performers. "It is my immense pleasure to talk about some of my brilliant students like Kushal Das, Rajrupa Sen, Ayush Ghosh and more…" Sanjoyda says,
"I consider these musicians as the maestros of the future, the torchbearers of Indian Classical Music. If you are looking for good and serious music I am sure you will be happy to discover them– I am sure any Indian music lover will love to listen to these outstanding talents.
Kushal Das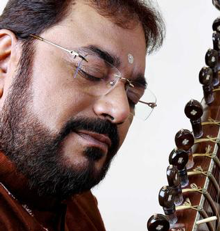 Among these, Kushal Das has already established himself as one of the finest sitar players of the current time and is commendably carrying forward the legacy. He does not require any introduction among Indian classical music lovers.
Rajrupa Chaudhury [Sen]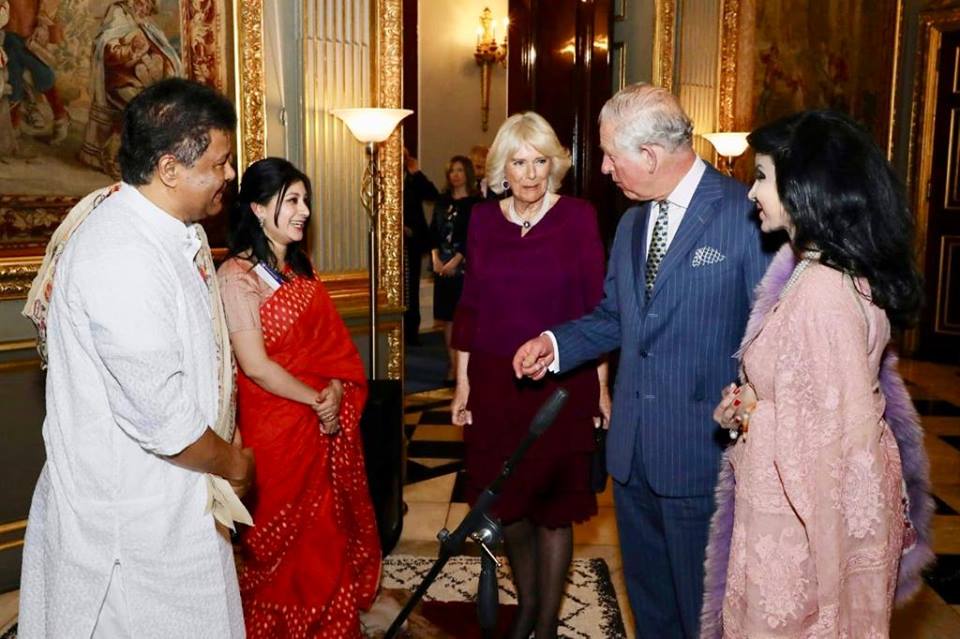 "I am very glad to introduce Rajrupa Sen. Rajrupa came to me when she was already recognized as a highly promising musician. Her basic teacher, and also my friend, Mr SiddharthaRoychaudhury thought that she should learn with me. So, she came to me and we started working together. Rajrupa immediately recognized two things; one is that she has a long way to go and secondly she will be able to cover this difficult stretch of her musical journey – the final lap to climb up the cliff. Rajrupa is now a fully blossomed sarod player. I wish the wider music world might find opportunities to listen to some of her brilliant performances."
Later addition: Rajrupa is steadily proving herself as the top-notch sarod player of the country. She participating in important music festivals in India and other countries. She also received an 'A' from the All India Radio and showcased in the National program of Music. Rajrupa is a highly dedicated disciple and faithfully moving forward with the musical legacy of Pandit Sanjoy Bandopadhyay.
Rajrupa was invited to perform a concert for the Hon'ble Prime Minister of India Shri Narendra Modi and the German Chancellor Angela Markel. The concert was arranged at Hyderabad House, New Delhi on 01 November 2019.
Kalyanjit Das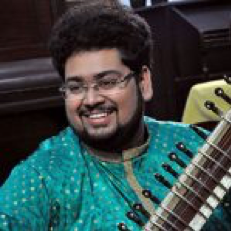 "Kalyanjit, son of Kushal Das, has been seriously learning sitar with me since 2004. When he primarily learned with his father, he also chose to learn with me. In one way he is my grand disciple, but at the same time he also directly learned with me and learned considerably. Kalyanjit is gradually coming up as an important name in sitar playing and performing in India and other countries."
Ayush Ghosh
"Now, I would like to talk about my another student, the little 'energy house', Ayush Ghosh. Ayush is now a 13-year-old boy with an unquenchable thirst for music, never-ending energy and exceptional talent for musical expressions. Ayush is a boy to observe. I am glad to see in him the mix of high talent and high perseverance. I remember Ayush, when he was 12-year old, happily trying for 13 hours to bring out the essence of a composition in Yaman! He just took a few small breaks for food. I was so impressed! I heard highly trained matured musician comparing his talent with the mandolin wizard U. Srinivas! I do not have any doubt, if everything goes well, he will perform sitar to a new height that was never touched earlier." [Sanjoy Bandopadhyay 04 May 2015, Kolkata]
National Radio CBC (Canada Broadcasting Corporation) interviewed Ayush Ghosh. It was broadcast across Canada on 08 January 2018 morning. Here is the interview recording:
Troilee Dutta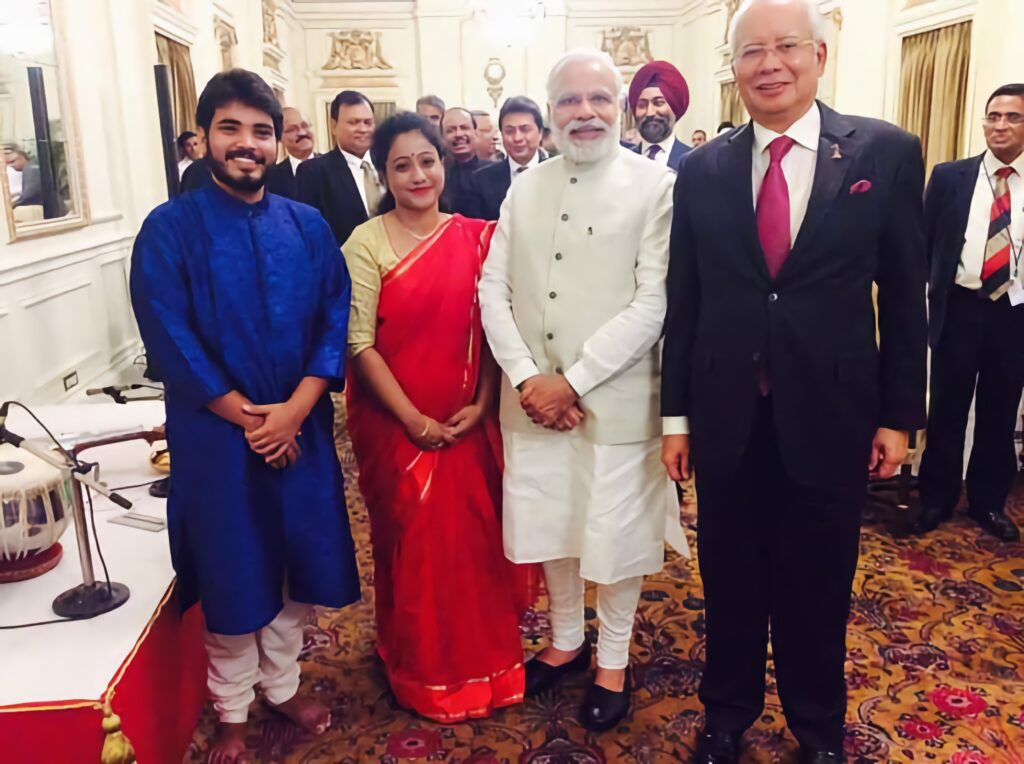 "Troilee Dutta is my another disciple, a name, that I love to mention here. Troilee came to me after the departure of his teacher Pt. Kamal Mallick. Learning with a teacher with new teaching system and ideas take a little time to adapt. I was glad to note how she slowly and steadily adapted and assimilated the passed on knowledge. She now feels the musical transcendence and doing well. She has started performing around. Here recent performance before our Prime Minister Sri Narendra Modijee was an important event. It was arranged on 01 April 2017 at Hyderabad House, Delhi. I hear that Modijee was highly impressed with her performance walked to the stage to bless her."
Some important more
"It will be improper if I don't mention some more names.
One is Georges Lindenmeyer, the violinist. Georges was a musician in and out. He was a good violinist and had the exceptional understanding of Indian Music. Unfortunately, he had to leave us some years back.. he was such a wonderful, sophisticated and caring person..! Georges was unique! George was too good!
Anup Dasgupta learned with me for some years. He is a well-known slide guitar player in the ICM world. All India Radio awarded him the prestigious Top-Grade some years back.
Dipankar Mukherjee, the flutist, had wonderful potential as a musician. He has developed a commendable understanding of Indian raga music and acquired good command over ragas and their artistic elaborations.
Anirban Banerjee, a sarod player, is coming up nicely. He has received a B-High grade from the All India Radio.
I hope to write much more on Panchajanya De, the flutist, very soon. He is coming up very strongly. I hope to see him as a remarkable addition to the line of the exceptional musicians of India. Here is a brief video clip of his efforts of playing the same note on two octaves simultaneously. This technique, he demands, was first ever applied in flute in Hindustani music style.