Music Album 'Rare Ragas on the Sitar' – A Collector's Item
This album is available worldwide through renowned music distributors including amazon.com and iTune.
First Posted on February 16, 2016 by sitardivine
Enjoy the Rare Music Album!
The music album 'Rare Ragas on the Sitar' is presenting a number of rare ragas those were never recorded for wide distribution earlier. This is indeed a collector's item. A detailed musical analysis will be published shortly. For a starter here are some listeners comments those appeared in social media.
————————–
I love rarity, I love traditions, I love music. This album caters to all my yearnings… I am floored with the renderings.. These are rare and most of them are NOT available in recorded format. I feel proud to recommend this to all my friends on this very special Valentine's Day!
Madhuparna Banerjee, February 14 at 11:26pm / Facebook on the music album

——————————-
not only a listener's joy… this album is a precious collection for lifetime. all the ragas were unheard to me. any amount of thanks is not enough for the maestro. undeniably wonderful. do listen and enjoy.
Troilee Dutta, February 15 / Facebook
————————————
Hi Freiends Pls listen this special CD on this Valentine's Day .Its a rare CD of Rare Ragas. I hope you will enjoy it …..
Indranil Mallick, February 14 at 10:39pm / Facebook
—————————————-
The rarest ragas along with a unique style of Sitar performance……got the opportunity to listen to all the seven ragas that kept me stunned…..buy the CD from ITunes store or contact the above number….my frndz can contact me also for this rare collection…..must listen
Anirban Banerjee, February 14 at 3:52pm / Facebook
——————————
great nourishment of unheard ragas in Indian classical music.unbelievable creation.
Nabamita Roy· February 14 at 6:44pm / Facebook
——————————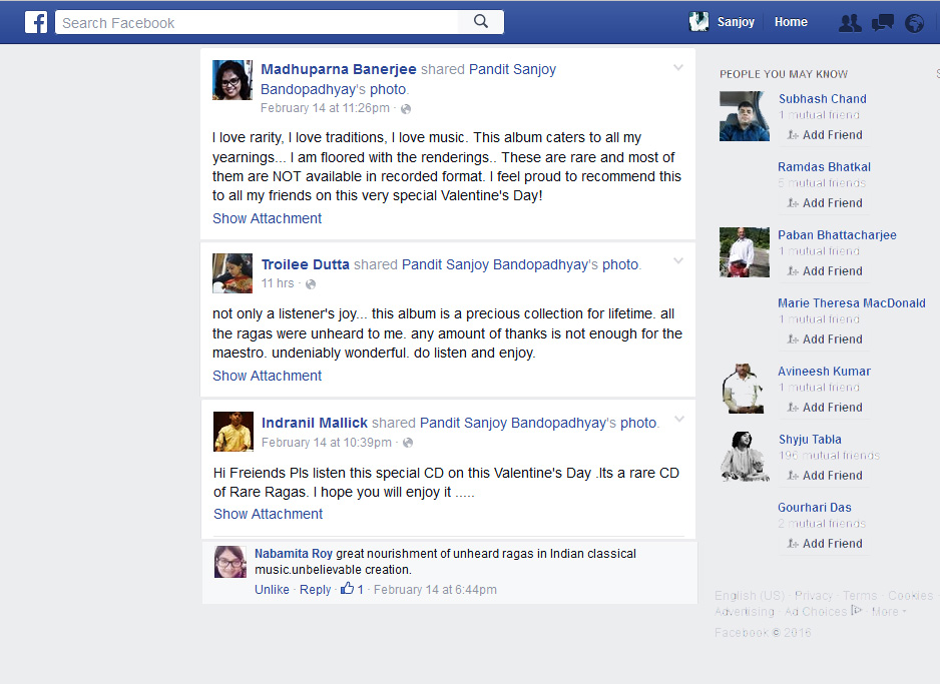 Critical analysis
The Sitar
Coming shortly
The Tabla
Detailed analysis is coming shortly.
Summary
Dilip Mukherjee [DM] in this CD provided tabla support in six different taalas in different layas. Some of the sitar compositions were offbeat and unique. The easy flows of the renderings were highly commendable. Listeners will feel at ease even when they listen to the not-so-common taalas like Chaar Taal ke Sawari. The performance flow was like that of Trital. I mentioned Trital, because this is a tala that we commonly listen to and musicians commonly have command.
DM's aesthetic sense and musical approach nicely justified the raga moods. It was a happy feeling to listen to some tabla support that especially took care not to over-do. It gave affectionate and careful support giving higher priority to the musicality. Even then, the tihais, and the divisions within the compositions, multiple speed variations [layakari] were awe-inspiring and thoroughly enjoyable.
The CD is a a Collector's Item and a treat for all groups of listeners.
The Tabla analysis was done by Pintu Saha.
Pintu learned tabla with Pandit Shankar Ghosh, the tabla legend. Currently he is pursuing researches under the Ph.D. program at the Department of Instrumental Music, Rabindra Bharati University. A serious researcher Pintu Saha received Research fellowship SJRF [State Junior Research Fellowship].
Also visit 'Mee Record' Facebook page at https://facebook.com/meerecords