"I thank God for allowing me the opportunity to discover the self afresh every time I sit with my sitar. When in a concert stage, I feel blessed to be able to share the experiences."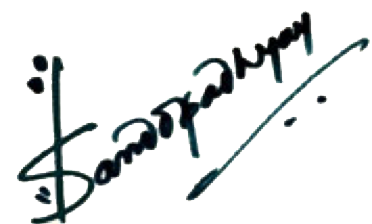 Briefly about Sanjoyda's music
Pandit Sanjoy Bandopadhyay is an important name in the field of sitar playing. This internationally reputed musician is primarily known for his exceptional spontaneity in musical expressions. His music is always lively, fresh and new.
Pandit Sanjoy Bandopadhyay received extensive training in sitar playing in Senia-Shahjehanpur, Imdadkhani, and Rampur-Senia gharanas. The listeners experience a beautiful synthesis of the rich practices and knowledge of these three very famous schools of music through Sanjoy's sitar. He had his major training in sitar playing from Pandit Radhika Mohan Maitra and Pandit Bimalendu Mukherjee. He started learning music with his father, Pandit Peejush Prasanna Bandopadhyay. He also learnt with Pandit Manas Chakraborty and Dr M.R. Gautam. He had exceptional opportunities of having blessings through intensive musical interactions with Professor Dhruva Tara Joshi, Pandit Ajay Sinha Roy, Pandit Gajanan Rao Joshi and Pandit Shankar Ghosh.
Here is a video where Sanjoyda talks about his music training.
Distributions
Sanjoy's music gets featured on national TV and radio channels in India and other countries. The Director-General, All India Radio awarded him the prestigious 'Top-Grade'. He has 12 audio CDs to his credit. Different reputed music companies in India and the USA published these CDs. He served as 'Artist in Residence' at the University of Chicago and University of Colorado at Colorado Springs, USA. He participated in the Plenary Session of the UNESCO Conference and other important global events.
Quickly on his academia
After serving the Sikkim University for over four years, Professor Sanjoy returned to his home city, Kolkata. In 2017 the Central University of Sikkim offered him the designation of Professor in Music. Earlier, Pandit Bandopadhyay was the Ustad Alauddin Khan Professor of Instrumental Musicat the Rabindra Bharati University, Kolkata. Also, he was the Director of the S.M. Tagore Centre of Documentation & Research of Languishing & Obsolescent Musical Instruments, a research center in the same university and the Coordinator of the UGC SAP-DRS Research Project of the Department of Instrumental Music, Rabindra Bharati University.
The Legacy to Follow
Panditjee is proud that some of his disciples have proved to be exceptionally brilliant and established themselves as foremost musicians of Hindustani Music.
Heritage Chart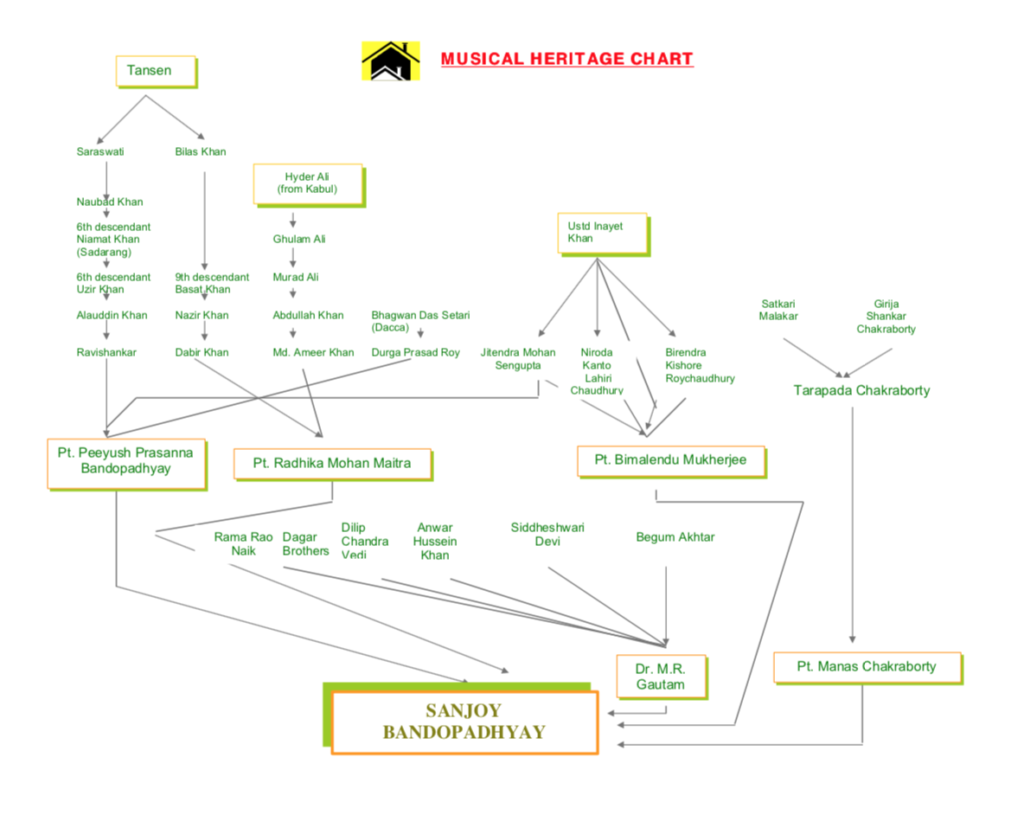 Painter Sushil Mishra derived inspiration from this rendering in Purvi. Here is one of his creations on canvas.