The June 30, 2021 was the last working day of Professor [Pt.] Sanjoy Bandopadhyay at the Sikkim University
From Facebook
SUTA [Sikkim University Teachers' Association] on WhatsApp |
[1:14 PM, 6/30/2021] Prof. Sanjoy Bandopadhyay writes
It is time to say goodbye to all my colleagues at Sikkim University. It was a prized four years for me! I cherish my opportunities to interact, learn, and getting enriched with such a band of wise people like you. I am leaving Sikkim University with countless happy memories. I am glad that I could be with you.
I wish all my colleagues many bright and grand moments ahead. I am sure that the future is waiting with well-laid stairs to take you to the apex.
With warmest regards: Sanjoy Bandopadhyay🙏🙏🙏
——————–
[1:24 PM, 6/30/2021] +91 89670 36279: Our all best wishes are with you and family Sir. You have contributed a lot to our University. Thank you so much.😀🙏
—————
[1:33 PM, 6/30/2021] +91 70479 97045: All the best for future endeavours… Sir 🙏🙏🙏🙏
——————-
[1:50 PM, 6/30/2021] Jasmine, Asst. Professor, SU Mass Comm: Wishing you joy, peace and good health, Sir!
———————-
[2:02 PM, 6/30/2021] Yadida Bhutiya SU, Associate Professor, Education: It was nice knowing you Sir and working with you in a committee. May you have all the joy, happiness, prosperity and good health. With high regards.
——————-
[2:11 PM, 6/30/2021] Sandhya Thapa, Associate Professor SU Sociology: Thank you so much for your contributions in Sikkim University n Sikkim at large for consolidating music department here. . You had given me an opportunity to share music from Sociological lens
..that was the wonderful  experience i had in music department.  Wish you all joy prosperity, good health.as well as happy days ahead., Prof Bandopadhya
——————
[4:05 PM, 6/30/2021] S.S. Mahapatra, Professor & Head, Commerce: It was a pleasure to work with you. We wish you good health and happy retired life.
—————
[4:08 PM, 6/30/2021] +91 94345 52502: Wish you a healthy and happy life ahead sir.  Hope your guidance will continue to the department 🙏
——————-
[4:55 PM, 6/30/2021] +91 98731 22054: Congratulations Sir for an eventful tenure at the music department.We wish you a very happy and healthy life ahead.
May your 2nd innings be more versatile.
Regards💐💐
—————–
[4:57 PM, 6/30/2021] +91 86709 84192: Congratulations Sir. I WISH YOU a happy  and musical life ahead.
——————–
[11:10 AM, 7/01/2021] Aneera P Lepcha, SU  : Congratulations Sir,  I wish you happy life ahead.
———————
Music Department, SU on WhatsApp
[12:29 PM, 6/30/2021] Krishnendu Dutta, Associate Professor & Head, Music: Dear all
Good afternoon!
Our music department is like an extended family and Sanjay Sir is our guiding guardian. Unfortunately, he will not be in Gangtok from tomorrow. Maybe it's my turn after that based on age. None of us will be here forever. But the department will remain forever. And as long as the department exists, the name of Prof Sanjay Sir will stay always in every way in the history of Sikkim University, Department of Music.
—————
[1:51 PM, 6/30/2021] Atish Tamang, PhD Scholar: Farewell Sir🌷🤍
————-
[1:52 PM, 6/30/2021] Priyanka Pradhan, PG Student,: 😓
———–
[2:38 PM, 6/30/2021] +91 86383 08470: We all will miss you sir💐
————
[3:23 PM, 6/30/2021] Ashis Sinchuri SU Student, PG student: Farewell Sir. It was really an honor and privilege to have you as our Guru.
—————-
[3:38 PM, 6/30/2021] +91 60003 00945: Farewell sir🌸🙏🏻
———
[4:01 PM, 6/30/2021] Vivek Basnet, PG student: Dear guruji, We all miss you  It was really a wonderful time with you ❤
——————-
[4:13 PM, 6/30/2021] Anuraag Gajamer Student: Thank you for everything that you have done for us Sir. The knowledge and wisdom which you imparted unto us will guide us through this journey of life.🌺🌻🌸
————–
Chosen personal messages through WhatsApp
Santosh Kumar, Asst. Professor, Music, SU, 6/28/2021, 7:27 p.m.
Thank you very much sir, since last 4 years, you were part of many good times of our family with your blessings. Not only this, I have personally learnt a lot regarding academic, career and life.
Keep your blessings sir 😊
At this age your enthusiasm for the work is remarkable and should learnt a lot from you.
Happy journey and hope to see you soon with some new assignments.
🙏🏻🎶🌹🎉😊
—————-
Milind Dhamala, PhD Scholar, 6/30/2021, 9:39 a.m.
Pranam Guruji🙏 i wish we could meet before you leave but I really look forward to meeting you again in future. I have few things to say, firstly we all are tremendously thankful for everything you've done for us, without you things wouldn't have been possible, we wouldn't have learned so much about research in so little time although we know very little about it; but whatever we learned, we learned from you. Thank you for being an amazing teacher (though some of us couldn't be good students), a father figure and an inspiration to do well in life. We never really realize the value of a person until they're gone. We used to talk about how our department has progressed since the day you entered but we were also very careless at times by not completing the tasks you had given us. I personally want to apologize for every mistake I've done and will always remember you and the lessons you've given us. We will always say it if anyone asks us about who our teacher was, "Pandit Sanjay Bandopadhya" you will be greatly missed and thank you once again for every little thing you've done for us. I wish you a very healthy life ahead and a safe journey. With love, Millind 🙏❤
—————-
Anuraag Gajamer, PhD Scholar, 6/30/2021, 2:06 p.m.
Thank you for everything that you have done for us Sir. The knowledge and wisdom which you imparted unto us will guide us through this journey of life.🌺🌻🌸
—————-
Siddhant Rai, PhD Scholar, 6/30/2021, 2:16 p.m.
Thankyou Sir for all that you did for us and our department. I am truly blessed having taught by you even if it was for a short while. Thank you for creating such standard in the department. Farewell sir!
—————-
[9:29 PM, 6/30/2021] Hemant Biswakarma SU BPA 3rd Sem: Guruji
Aap ja rahe hai toh mujhe lag raha hai ke
Mere body se koi part mujse door ja raha hai
Guruji mere leye aap bahut he zeyada important hai
Mere jewan ka bahut he behtarin Palo mai ek jo maine aapke sath betaya
Mujhe nahi lagta aapke jaisa guru hame koi or mil payega
Bikhre huwe thee hum aap ne samet deya
Aadhure se thee aapne aake pura kar deya
I know guruji main bahut aacha student toh nahi ho saka jiske leye mafe chata hu
Safe journey guruji I will always miss you 🙏😢
————– Reply ———-
[10:34 AM, 7/1/2021] Prof. Sanjoy Bandopadhyay: Aare Gurujee, kayse baat kar rahe hain. Tu itnaa achchha hain, ki kya bataayun! Thoda saa man lagaake kaam kar, dekh kya jaadu hotaa hain. FIUT and GRIT yaad rakhna.. Tu bahut achchha hain. Love you ❤️!
—————— Reply—
[10:50 AM, 7/1/2021] Hemant Biswakarma SU BPA 3rd Sem: I will miss you guruji🥺🥺
———————
Dr Yadida Bhutia's quick 60 secs. touch down to say goodbye during late afternoon of June 30, 2021.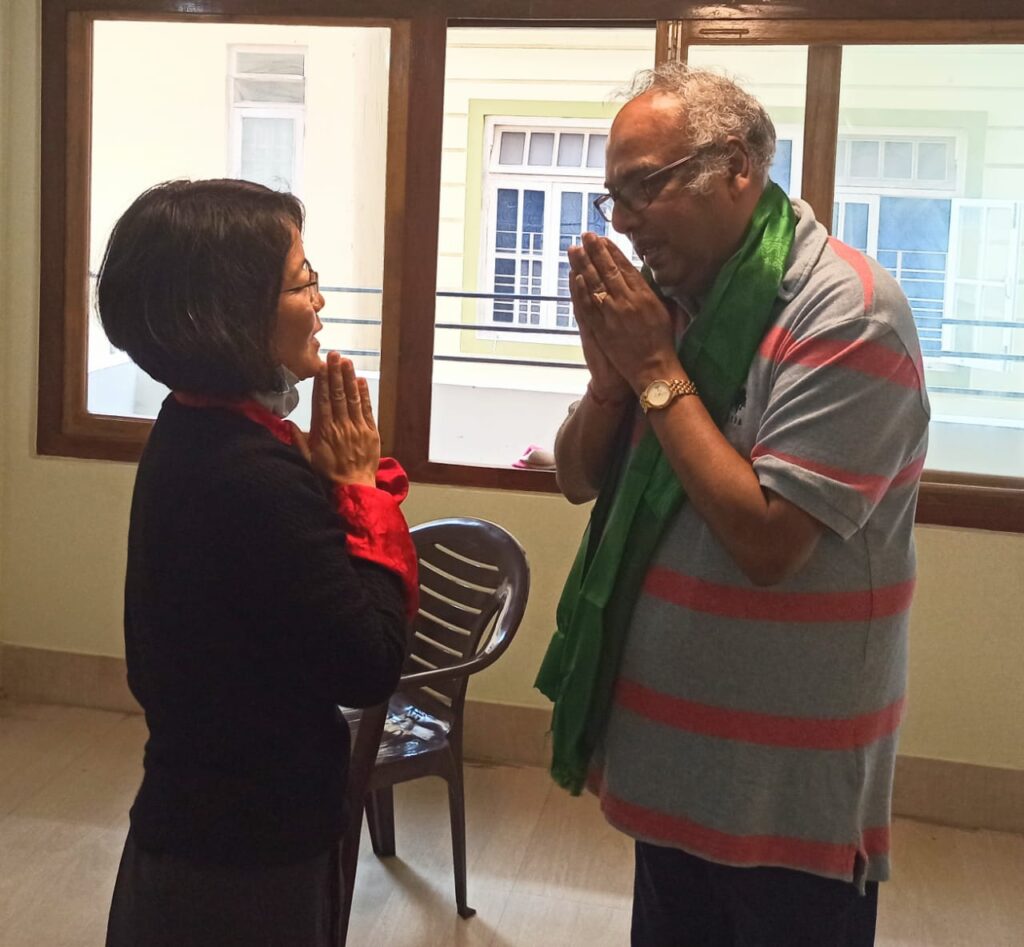 Earlier, Professor Abhijit Dutta. Dean, School of Professional Studies visited Professor Sanjoy a couple of times to say him Good Bye. Same for Dr. Rama Mohan, Associate Professor in Anthropology. Dr. Mohan later on July 05 he wrote in a WhatsApp message, "Good evening Sir, Hope you have settled back.
Miss all your enlightening discussions, Regards".
I remember Dr Samidha Vedabala, who is my student too, and an Assistant Professor of the Department of Music especially visited me to say adieu from SU. She came with some delicious food!
——————
A phone call
It was June 30, 2021, and the time was 3:38 p.m. Dr. Swati Sachdeva, Associate Professor in Sociology, gave me a tinkle. She talked, took her own time to say me adieu. 
—————-
A quick farewell on the June 30 evening
Dr Krishnendu Dutta, the Head of the Department of Music, arranged a quick online farewell on the evening of July 30. Md. Ibran, an M.Phil scholar, coordinated the occasion. A good number of students and faculty members participated.
I am personally delighted to observe that my students recalled my tips for success and self-development like FIUT & GRIT, TAKING PRIDE ON FAILURES, YOU ARE YOUR OWN TEACHER and others.
——————
On a Personal Note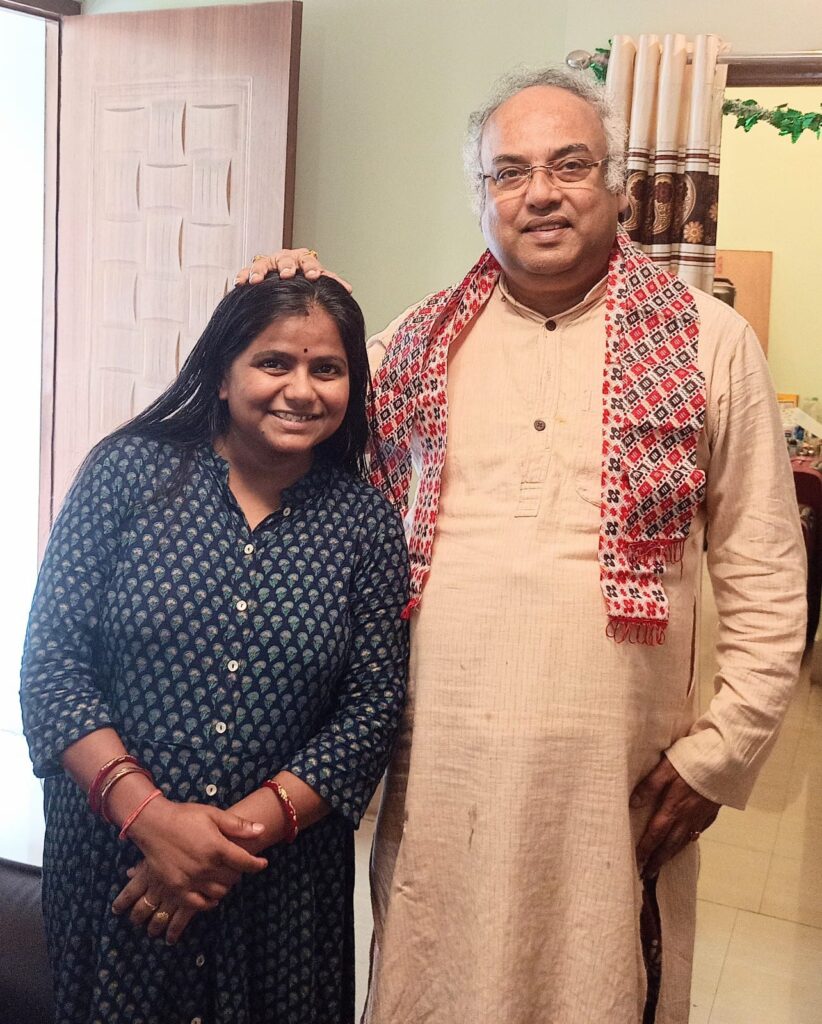 Two PG students Manisha and Saraswati came with her and traditionally garlanded me with khAdA.
—————–
The departure from Sikkim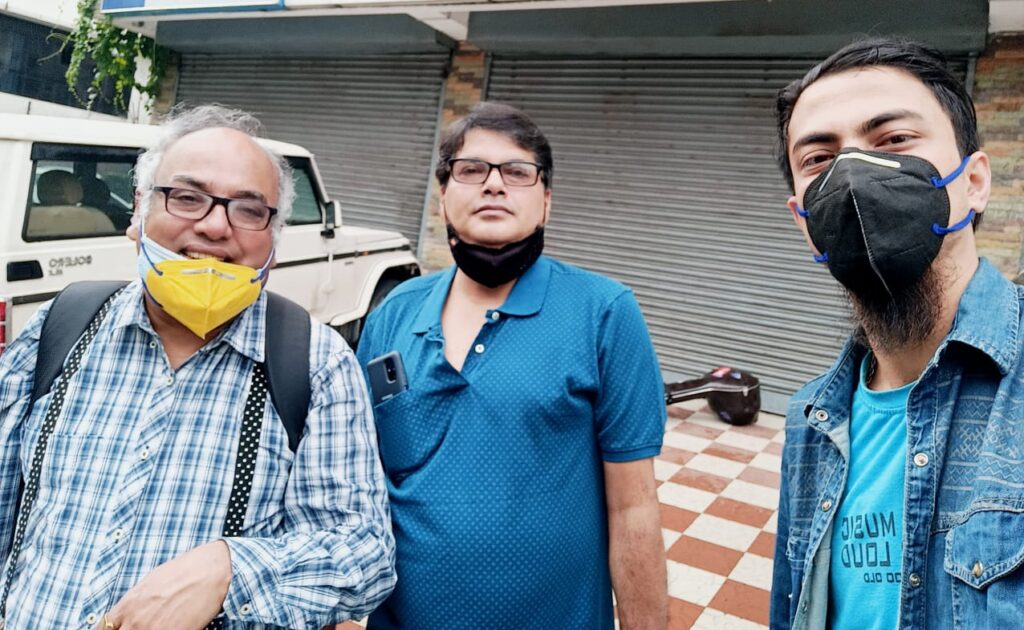 A foggy morning, it was July 1 of 2021. Professor Bandopadhyay sat on a car slightly before 6:00 a.m. at Entel, 6th Mile. It was time for him to leave Gangtok finally. Professor Sanjoy was happily remembering the joys of completing his four years of eventful involvement with the music academia at Sikkim University. Dr Krishnendu Dutta, the Head of the Department of Music, and Mr Subham Peter Gazmer were present during the final moments of his departure from Sikkim. Subham stayed with the Professor for more than two and a half years, a bright PhD scholar. Those four young hands were there to sign happy Good Bye!
——————–
WhatsApp never sleeps! The story goes on… Here are a few more to put this note to an end.
On 12 July, 2021 morning Professor Sanjoy Bandopadhyay wrote:
I have created a report, 'Adieu Sikkim University' on my website where I mentioned you. I have primarily used WhatsApp and Facebook messages. This write-up is surely many light-years away from an exciting reading.
I am sharing this scratchy note with you remembering the building up of an exquisite relationship that was naturally shaped during my four-year association with Sikkim University. The link: http://sanjoybandopadhyay.com/adieu-sikkim-university/ || End of note
————–
Aparajita Chakraborty, former PG student, 12.07.2021, 2:06 pm responds:
Incredible!!
Although I was not lucky enough to be there and bid you goodbye in person, but extremely delighted to get glimpses of these very heartfelt messages, notes and best wishes💕
Indeed Sikkim University and most importantly the music department will always miss your presence Sir❤️
It was the golden time for the department of Music and its students for sure💕❤️❤️❤️💕
—————–
Milind Dhamala, PhD Scholar, 12.07.2021, 2:42 pm responds
This is really very beautiful Guruji 👏🏼👏🏼 we were indeed very blessed to have you in our dept 💚
——————–
Anuraag Gajamer, PhD Scholar, 12.07.2021, 3:02 pm
Without you sir the department won't be the same. We will miss you, Sir.
———————
---
Dr. Sandhya Thapa, Associate Professor in Sociology, 12.07.2021, 6:16 p.m.
Awesome Prof Bandopadhya, the way you give the essence to small things n made it memorable… you will be remembered always, sir.
——————-