Note: This was originally posted on January 5, 2012 by sitardivine
Scroll down for Interpretations through Synaesthesia
Sanjoyda talks about the birth of Anil-Madhyam. "It was coldish 26 December… six notes came to me whispering.. I started humming… immediately started to love them. I called Dilip [Mukherjee] on his cell phone 'Dilip, sandhyebelaa free aachho? Tumi ele aktu jantar niye bastaam' [Dilip, are you free this evening? If you come then I would like to sit with my instrument]. Dilip readily agreed.
In the evening after playing a bit of Bihag I thought of the six notes.. I tuned my tarab strings and started strumming. Dilip immediately reacted.. " Sanjoyda, sundar lagchhe to! Ki raag?" [Sanjoyda, this is sounding beautiful! What is the raga?]"
Sanjoyda chose to play Anil-Madhyam at the 01 January 2012 evening concert to celebrate the birth-centenary of Acharya Anil Roychaudhury. Listen how he introduced the raga. He spoke in Bengali. Here is what he said…
Raga details
Name of the raga: Anil-Madhyam
Conceptualized by: Pt. Sanjoy Bandopadhyay on 24 December 2011
First performed by Pt. Sanjoy Bandopadhyay on the sitar on 01 January 2012 in a concert organized by Vistar as a tribute to Acharya Anil Roychaudhury during his birth-cenetenary celebration.
Notation system
Shudh svaras in Caps: SRGMPDN
Vikrit svaras in smalls: r g m d n
Tar saptak : S' R' G' M' etc
Mandra saptak: N1 D1 P1 etc.
Raga: Anil-Madhyam
Arohan: S R g m P n S'
Avarohan: S' n P m g R S
Pakad: R n1 S, RgPm
Important note focus: Tivra-m
Chalan:
R n1 S g S, R g P m
P1 n1 P1, m1 P1 S
P1 n1 g R n1 m1 P1 S
P1 n1 R, S g S, R n1 S, P1 m1
n1 S R g m, S g R n1 P1
S R g m P m
g m P n g, R g m R, S g S, n1 g R, S R g P m
R n1 S R g m P n – P
m P S', R' S' n – P
P n R', P n g' R' S'
R g m P n S' R' g' R' S'
S' n P m g R S
Depiction of Anil-Madhyam is included in the CD Rare Ragas on the Sitar. A very brief part is available for free listening. Please click to reach.
Two Efforts Toward Widened Understanding of Anil-Madhyam: Interpretations through Synaesthesia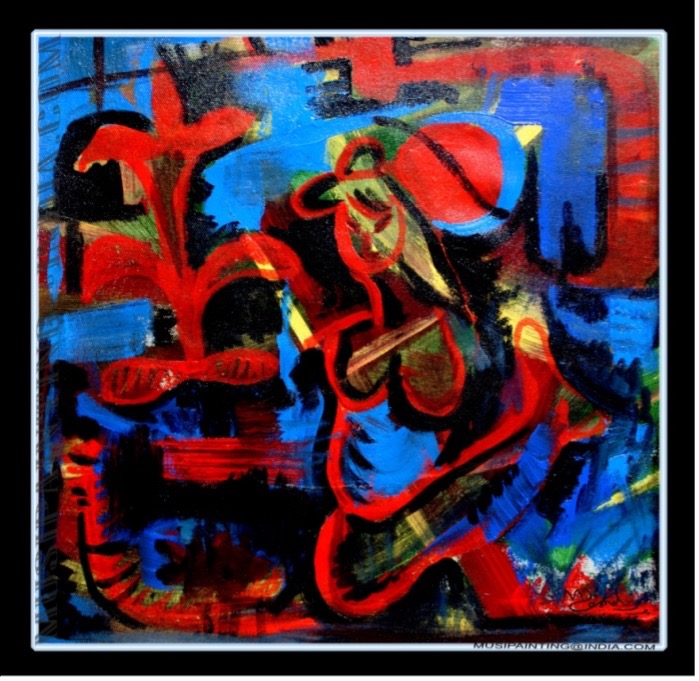 Sushil Mishra* explained the technical details
Anil Madhyam is a raga created by Pandit Sanjoy Bandopadhyay. The mood of this raga is serene [shanta] and pathos [karuna]. Panditji says that some listeners find this a mystical raga. It is Shadav raga (having six notes) with highly prominent tivra-madhyam. I applied colours in many layers to demonstrate the profound emotion and highlighted the combination of vermilion to enhance the prominence of tivra-madhyam. The effect of komal-gandhar gives Anil-Madhyam a very soft and tender feeling and is depicted with a cobalt blue which gives a soft feel as compared to the other colours used in the painting.
अनिल मध्यम
कवियत्री – प्रज्ञा प्यासी**
अनिल धारा सी
सद्यः प्रवाहित
सृतियों की गंध
मंद मंद
मृदु गांधार सी सहज
सहज छंद
तीव्र मध्यम अति प्रबल
आलोढ़ित पंचम पर सबल
तीव्रतर वेदना भी
निकसी अंतर से
पाकर मार्ग सुबल
झरते हैं पारिजात से
मंजुल भावपुष्प
अति अनूप
स्वरमय स्नेहिल समर्पण
हे करुणाकर
चरणों मे अर्पण
*Sushil Mishra
Sushil Mishra [1981 – 2021] was a notable bi-media artist. He was groomed in the painting by the Khairagarh University, and later, he had the privilege to work under the affectionate proximity of the famous artist Sri Jatin Das. He learned sitar under the tutelage of Pandit Sanjoy Bandopadhyay.
**Dr. Pragya Pyasi
Dr. Pragya Pyasi is equally at ease with her pen and the lute. She learned sitar under Pt. Sanjoy Bandopadhyay. She is an author for several literary publications, and her research articles are available in well-known academic journals. Dr. Pragya is currently serving the University of Hyderabad as an Assistant Professor in Music.