Note: This was originally posted on March29, 2014.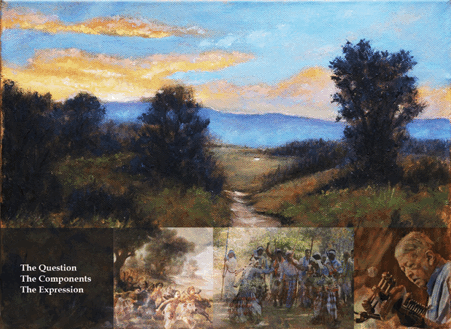 On the day before yesterday [27 Mar 2014] at the 'Vistar' program Buddhada [Padmabhushan Pt. Buddhadev Dasgupta] suddenly asked me if I knew 'Ahiri Marwa' [আহীরী মারোয়া জানিস?]. I said, no, I did not learn any rag named 'Ahiri Marwa' [না শিখিনি]. Next evening when I came back home with Dilip [Dilip Mukherjee, a wonderful tabla player and an excellent human being] and went straight to my riyaz-room. Suddenly I remembered Buddhada saying "আহীরী মারোয়া জানিস?" I thought why not try mixing some components of 'Ahir Bhairav' [frankly I have not learned Ahiri, but had the opportunity to listen to this raga from Pt. Balaram Pathak many years back… But I don't remember anything and was not in a mood to consult any book to find out the raga details] and went straight working on blending the components of D1nr component of 'Ahir Bhairav' and 'Marwa' in the 'rGMD' region and playing phrases skipping 'n'. It gave me a good feel.. I thought why not record it? I grabbed an audio recorder and pressed the red button and here it is… Today, before putting the raga for your evaluation I searched the google with "Ahiri Marwa" and did not come with any result. I think this might be also named as 'Komal Marwa' too. Listen and comment if you have time… It remained to be asked to Buddhada how he asked me on 'Ahiri Marwa', did he listen to it anywhere or contemplating on composing such a raga. In any case, it was fun to blend these two ragas of completely different moods and almost opposite playing times.
A depiction of Ahiri Marwa is available in Pt. Sanjoy Bandopadhyay's Music Album titled 'rare Ragas on the Sitar'.
————————————————–
March 29, 2014
This was posted in Facebook. Here are some interesting comments…
Uma Shankar Sharma asks: What will be time to play this raga?
SB replies: This is a good question. Firstly I played this for fun and wanted to feel how the combination of these two ragas sounds. I don't know if the raga has been already composed by somebody and so on. If you ask me, then I would tell you that, it all depends on how this raga will get expressed by the performer. If you take this as a 'Mishra Raga' then a musician can highlight either the Ahiri part ore the Marwa parts. If someone makes the 'Ahiri' effectively prominent then it should be played in the morning and vice-versa. I find the probable application of Komal-re very interesting as you have altogether different komal-re for these two component ragas. I hope you enjoyed raga textures…
Anindya Banerjee: We have learnt Ahiri Bhatiyar from Khansahib, where there is little resemblance with Marwa and Ahiri
Sanjoy Bandopadhyay @Anindya Banerjee The reason possibly is, Bhatiyar and Marwa have similarities. Does 'Ahiri Bhariyar' take both the Madhyamas? Here, I used only 'Tivra m' for 'Ahiri Marwa'. I also proposed a name for the raga 'Komal Marva'.
Tim Hoffman: Thanks for the info on a vital process such as has throughout history of Hindustani music given the world some of its most interesting modal forms. [March 30, 2014 at 8:58am]