Before joining Sikkim University as Professor in 2017, Sanjoy Bandopadhyay was the Chair Professor [Ustad Allauddin Khan Chair] of the Department of Instrumental Music of Rabindra Bharati University, Kolkata [India]. He was also the founder Director of the S.M. Tagore Center for Documentation & Research in Languishing & Obsolescent Musical Instruments [SMTC-DRLOMI]. He was the Coordinator of the Research Project 'Indian Classical Music Mapping of Kolkata' of the Department of Instrumental Music, Rabindra Bharati University. The project was supported by the University Grants Commission [SAP-DRS].
The University Grants Commission nominated him as the Expert member of the 'Advisory Committee' of the Special Assistance Program [DRS] of the Department of Music, Delhi University. He is also an Expert Member of the Academic Council of Banaras Hindu University and also member of Faculty Council of the same university.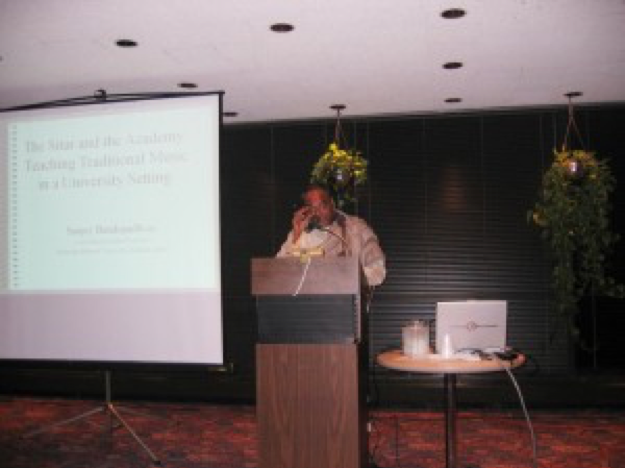 He participated at the Plenary Session of UNESCO Conference [2003] in Finland. He visited the University of Alberta, Edmonton, Canada as Distinguished India-focus Visitor. He was a specially invited speaker at the XIIIth International Conference of the German Musicological Society held at Weimar, Germany [2004]. The University of Illinois at Urbana-Champaign invited him as George A. Miller Visiting Professor [October, 2005]. In 2008 he visited Mahatma Gandhi Institute, Mauritius as Resource Person. He served as 'Artist in Residence' at the University of Chicago [2009] and also University of Colorado at Colorado Springs [2008]. He also visited three important universities in South Africa namely, the University of South Africa, Pretoria; University of Pretoria, University of Cape Town and Rhodes University, Grahamstown on academic activities and concerts. He participated in the International conference titled 'India and the World' at the University of Amsterdam [20 to 22 November 2008]. In 2010 he was invited in an Indo-Canadian bilateral conference at University of Saskatchewan 'Emerging India' a conference organized in collaboration with Shastri Indo-Canadian Institute. During this Canada visit he also did workshops and concerts at the University of Alberta, Edmonton and the Simon-Fraser University, Vancouver.
Prof. Bandopadhyay is involved in a number in collaborative research projects at the national and international levels and attached to a number of academic bodies of different universities in India.
Here is a short video of Professor Sanjoy Bandopadhyay talking of Indian Music Pedagogy
Here is an edited video of Prof. Bandopadhyay 06 July 2020 BHU talk
Prof. (Pt.) Sanjoy Bandopadhyay was invited by the Faculty of Performing Arts, Banaras Hindu University for a talk on 06 July 2020. Prof. Bandopadhyay talked on 'Conceptualizing the Micro to reach the Macro: A small music-lantern from my Revered Gurus'. More than 1200 music enthusiasts attended the talk online and later there were many more who listened to the recording online. An edited version of the talk is now available in YouTube.